ARS TOWING  -  
267-230-3637
We are the most professional and honest towing and recovery team in the area. 
We are located near Philadelphia and provide towing and recovery services to all the areas. We are family own and operated.
Our company operates with top-of-the-line equipment and the most experienced drivers, ensuring a seamless towing service, in a timely manner.
Our drivers come to work smiling and are happy to get in their trucks. 
We Love Our Jobs! For GREAT service call or text 267-230-3637.


ARS Towing
At ARS Towing, we understand that life can throw unexpected challenges your
way. Whether you're stranded on the side of the road due to a breakdown,
locked out of your vehicle, or need assistance with heavy-duty towing, we've
got you covered. Our reliable and professional towing services are just a call
away!

Emergency Towing:
When you find yourself in a tough spot, our team is ready to provide prompt
and efficient emergency towing services. We'll safely transport your vehicle to
your desired location, ensuring it arrives in the same condition we found it.
Roadside Assistance:
From flat tires and dead batteries to fuel delivery and jump starts, our roadside
assistance team is here to get you back on the road in no time. We understand
that even minor issues can be major inconveniences, so we aim to resolve them quickly and professionally.
Long-Distance Towing:
Planning a long-distance move or need to transport your vehicle across state
lines? Our long-distance towing service ensures the safe and secure transport
of your vehicle, providing peace of mind during the journey.
WHY CHOOSE ARS TOWING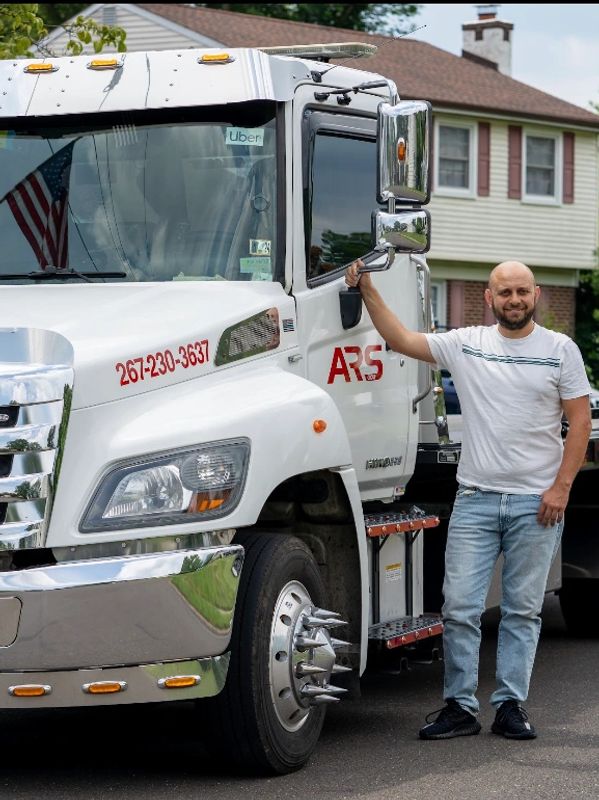 Reliability: We take pride in our reputation for reliability. Our team is always on standby, ready to assist you when you need it most.
Professionalism: Our trained and experienced technicians approach every job with professionalism and a commitment to excellence.
Affordability: We believe in fair and transparent pricing. You'll know the cost upfront, with no hidden fees or surprises.
Safety: Your safety and the safety of your vehicle are our top priorities. We use state-of-the-art equipment and follow strict safety protocols.
Local Expertise: As a local towing company, we understand the unique
challenges of our area, from rough terrain to heavy traffic. We know the best routes to get you back on track quickly.
Contact Us Today
When you need reliable towing and roadside assistance services, don't hesitate to reach out to ARS Towing. Our friendly customer service team is ready to assist you, and our skilled technicians will be on their way to help you in no time.
Save our number 267-230-3637 in your contacts, so you're prepared for any
unexpected roadside situation. Remember, we're here to make your tough times a little bit easier.